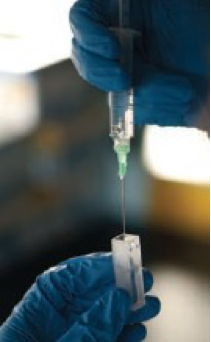 Enrolment Requirements:
This is a limited enrolment program. Students must have completed 4.0 credits and meet the requirements listed below to enrol.
Variable Minimum Grade Average
A minimum grade average is needed for entry, and this minimum changes each year depending on available spaces and the number of applicants. The following courses must be completed:
• BIO120H1 and BIO130H1
• ( CHM135H1 and CHM136H1)/ CHM151Y1
• ( PHY131H1 and PHY132H1)/( PHY151H1 and PHY152H1)
To ensure that students admitted to the program will be successful, applicants with a final grade lower than 60%, or a grade average lower than 70% will not be considered for admission. Please note that obtaining this minimum final grade or minimum grade average does not guarantee admission to the program.
NOTE: Some of the courses listed below may have prerequisites. 
Completion Requirements:
(13.0 credits, including 1.0 credit from 400-level courses)
NOTE: Some of the courses listed below may have prerequisites.
First Year:
Second Year:
Third Year:
Fourth Year:
Note that not all of the 400-level PHC courses are offered every academic year.
Students in this program have the option to complete the Arts & Science Internship Program (ASIP) stream or PEY Co-op.
Note: September 2021 or January 2022 will be the last opportunity for Faculty of Arts & Science students to register for PEY Co-op. Students in Year 3 in the Fall/Winter 2021-2022 session will be the last group of Faculty of Arts & Science students eligible to participate in PEY Co-op. Students starting Year 2 in Fall 2021 or later will only be eligible to participate in the Arts & Science Internship Program stream.
12 or 16-Month Internship Program to Qualified Students
We also offer an optional 12 or 16-month internship program to qualified students. This is a project-based, paid employment placement that takes place between the third and fourth years of undergraduate study. It provides the student with an opportunity to apply the knowledge acquired in the first three years of university to private or public-sector settings. Placements are available in pharmaceutical and biotechnology companies, university research labs, university-affiliated organizations, or government research agencies.
For more information please visit the Professional Experience Year (PEY) Internship site.