Congratulations to our postdoctoral researcher Temitope (Tosin) Abiola, who was awarded a 2023 Provost's Postdoctoral Fellowship.
In 2018, the University of Toronto launched the Provost's Postdoctoral Fellowship Program to increase opportunities for hiring postdoctoral fellows from underrepresented groups, specifically Indigenous and Black researchers. Every year, this award enables seven to nine postdoctoral researchers to grow their scholarly profiles, undertake academic work at the University of Toronto, and strengthen the university's research environment with diverse perspectives.
Abiola's research with University Professor R.J. Dwayne Miller's group focuses on creating technology that could make cancer therapies more efficient and less painful.  
Cancer patients endure a lot of pain and trauma —not only from the disease but also from the treatment. Together with the Miller group, Abiola is developing picosecond infrared laser (PIRL) spectroscopy technology that could be used as a scalpel to effectively remove tumours. The fibre optics that comprise the PIRL scalpel is so small yet precise, that it does not damage or burn any tissues and leads to minimal scars. Describing their research as "cancer surgery without trauma," the PIRL technology defines new limits in minimally invasive surgery and introduces powerful new laser tools to fight cancer. 
To optimize this surgery, he and his fellow group members will devise a protein database of healthy tissue by using analytical techniques, such as mass spectrometry. This electronic database can guide surgeons in real-time, informing them if the laser is targeting cancerous cells or normal body tissue.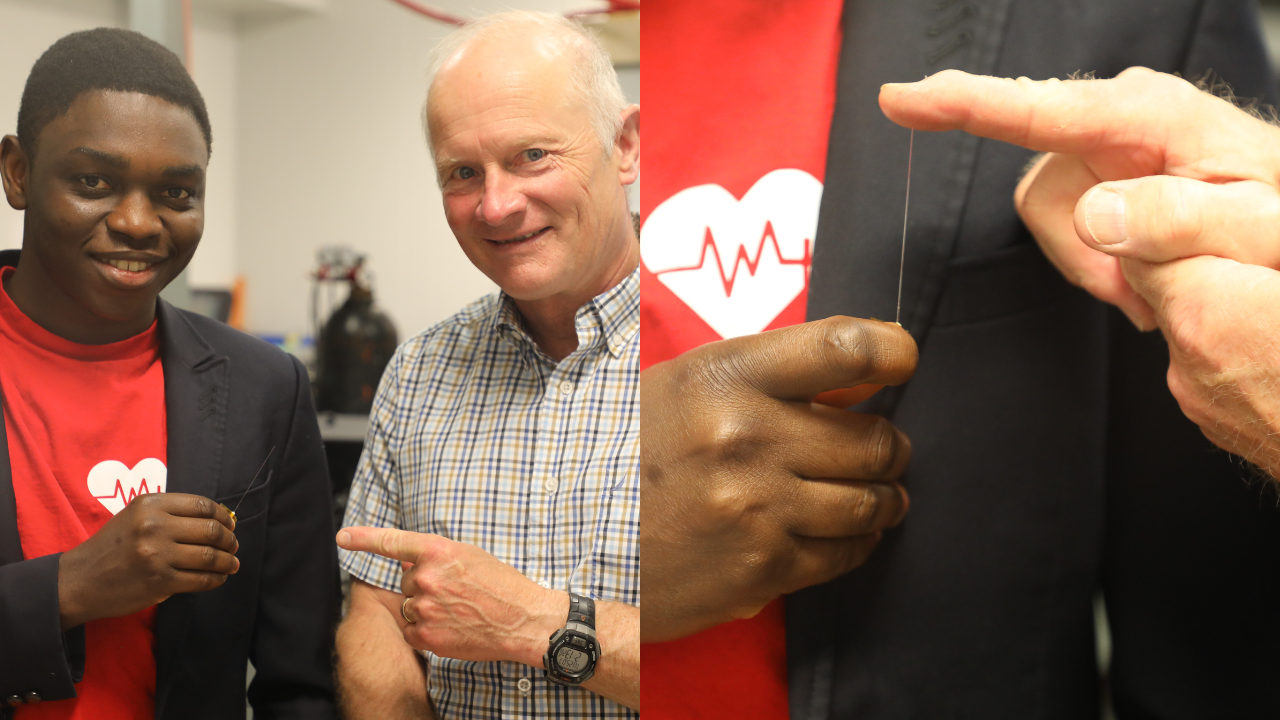 Moreover, the PIRL technology could accelerate and advance photodynamic therapy (PDT). PDT is a two-stage treatment that uses photosensitizers, light-activated drugs that target and kill cancer cells. Photosensitizers can be administrated orally, topically or through an IV. During the final step, the patients are exposed to a light source, such as LED or lamps, to activate the drug. Unfortunately, this treatment can be inefficient. The light used in most PDT cannot penetrate the tissue well, causing only a fraction of the photosensitizer to be activated at the tumour site. Also, patients may face side effects such as phototoxicity to normal tissues, burns, swelling, or scarring. Another drawback is that the waiting time between the stages (photosensitizer administration and the photoactivation stage) is lengthy, ranging from hours, days, or weeks. Instead, Abiola's work focuses on using PIRL technology for site-selective delivery of photosensitizers to tumours. The light from the laser can activate the drug, causing it to act on the tumour immediately. In turn, the diameter of this wound is around 200 microns, which is about 10 cells. Overall, the PIRL technology can overcome the inefficiencies of other cancer treatments. 
Currently, the Miller group is collaborating with researchers at Sunnybrook Research Institute, employing their high-resolution ultrasound imaging to examine the laser's response to animal tissue, primarily mice. This proof-of-concept technique could demonstrate if the laser can effectively create a channel in the tissue and deliver light through it. They are also developing analytical methods to facilitate this research process. 
This project builds on Abiola's extensive research background in physical chemistry. He obtained his undergraduate degree in industrial chemistry at the Federal University of Technology Akure in Akure, Nigeria. Upon graduation, he worked as a graduate assistant at Kwara State University in Malete, Nigeria. In 2018, the Government of the United Kingdom awarded him the prestigious Commonwealth Shared Scholarship to undertake postgraduate studies at a UK university. He completed his Master's in analytical science and instrumentation at the University of Warwick, a joint sponsor of his award. Due to his excellent academic performance, the University of Warwick awarded him the Chancellor Scholarship for International Students to pursue his PhD in physical chemistry. Under the supervision of Professor Vasilios Stavros, Abiola's research centred on creating new environmentally friendly UV-A filters for sunscreen application. In 2023, he chose the University of Toronto for his postdoctoral fellowship over other universities due to the city's diversity and the Department of Chemistry's various international research collaborations and partners. 
The Provost's Postdoctoral Fellows will receive $70,000 annually to support their work for two years. This funding is higher than the median postdoctoral salary at the University of Toronto and aligns with Canada's most prestigious postdoctoral awards. Abiola will begin his two-year fellowship in July 2023. He feels grateful for this opportunity, as he can produce impactful research while expanding his network and collaboration opportunities. 
Read more the other Provost's Postdoctoral Fellows on the School of Graduate Studies website