The $200-million Canada First Research Excellence Fund (CFREF) grant awarded to the University of Toronto's Acceleration Consortium will help build a world-leading centre for accelerated materials discovery and innovation.
The funding will support the consortium's work on "self-driving labs" that realize the game-changing potential of AI by combining it with robotics and advanced computing to discover new materials and molecules in a fraction of the usual time and cost – from life-saving medications and biodegradable plastics to low-carbon cement and renewable energy.
With equity, diversity and inclusion guiding project implementation and research design, the Acceleration Consortium – a U of T institutional strategic initiative – will use the funding to commercialize ethically designed technologies and materials to benefit society and train today's scientists with the skills they need to advance the emerging field of accelerated materials discovery. It will also examine critical issues regarding the application of the technology, including from environmental and Indigenous perspectives. 
"We realized we need to take a cue from self-driving cars and extended that concept to a self-driving lab, which uses AI and automation to carry out more experiments in a smarter way," says Acceleration Consortium Director Alán Aspuru-Guzik, a professor in the departments of chemistry and computer science in the Faculty of Arts & Science who is a CIFAR AI Chair at the Vector Institute for Artificial Intelligence.
In particular, the funding will help the consortium rapidly create high-quality datasets to better train AI models and help validate the model's predictions in real time.
Leaders and researchers from U of T and Acceleration Consortium spoke with U of T News about the impact the CFREF funding – the largest federal research grant ever awarded to a Canadian university – will have on the consortium's game-changing work and unique model of cross-sector collaboration.
---

U of T's vice-president, research and innovation, and strategic initiatives
Materials and molecules are central to solving many of the world's pressing challenges, such as climate change, plastics, pollution and cancer. But it typically takes a very long time to develop new materials with new properties that can address those big problems.
By contrast, Acceleration Consortium's approach combines AI, robotics and advanced computing to radically reduce the time and cost of bringing materials to market. Their autonomous labs predict, synthesize and test materials for key characteristics and can repeat and refine the process, which dramatically accelerates the timeline.
This transformative capability has the potential to affect so many different parts of our lives and our planet. So, the consortium's focus on equity, diversity and inclusion in program delivery and research design, as well as its emphasis on environmental and Indigenous perspectives, is crucial.  The CFREF grant allows us to do big science – through an interdisciplinary team-based approach with an incredible scope and potential for impact – in a way that's critical for Canada to remain competitive on the international stage.

Dean, Faculty of Arts & Science; professor, department of cell and systems biology
The Acceleration Consortium is already having an impact. Its second annual Accelerate Conference this summer will showcase the latest methods, applications and research in accelerated materials and molecular discovery. But this funding will enable even greater breakthroughs. It will have a transformative impact on our researchers' ability to develop the cost-effective, high-performance, sustainable materials that are needed to solve the world's most pressing challenges.

Director, Acceleration Consortium; professor, departments of chemistry and computer science in the Faculty of Arts & Science; Canada 150 Research Chair in Theoretical and Quantum Chemistry; CIFAR AI Chair at the Vector Institute for Artificial Intelligence
Our goal is to accelerate science – that's where our name comes from. To do that, we realized we need to take a cue from self-driving cars and extended that concept to a self-driving lab, which uses AI and automation to carry out more experiments in a smarter way. We've essentially supercharged the process of scientific discovery – and this grant will help us to take that even further.
We are already emerging leaders in the world of research excellence and we have a plan to keep building on that excellence. We've also shown that we're integrated with communities – including working closely with Indigenous communities – and have innovative plans to teach this technology to future generations. 
---
Acceleration Consortium Researchers

Senior scientist at the Princess Margaret Cancer Centre, University Health Network; professor of medical biophysics at the Temerty Faculty of Medicine; director of the Toronto node of the Structural Genomics Consortium
The CFREF funds will advance our self-driving lab (SDL) to tackle the early stages of drug discovery by taking an initial compound and developing it into a more drug-like molecule that modulates a protein of interest in a disease. This is a design-make-test cycle that is currently done in a very iterative, slow manner. The Acceleration Consortium approach can speed the process up to try to get to the biologically active reagent much more quickly.
It has broad implications in a whole number of areas. Our SDL will complement another self-driving lab that is making engineered tissues that mimic human tissue or a disease state like a tumour – allowing one to test drugs or early-stage compounds in disease-relevant assays.
The self-driving lab concept condenses the time it takes to get to the answer you need – and does so more efficiently.

Professor of marketing at the Rotman School of Management and Rotman Chair in Artificial Intelligence and Healthcare; chief data scientist at Creative Destruction Lab
This grant will allow us the freedom to invest in long-term planning for more – and more ambitious – projects. You learn more when you talk to people who have expertise that's different from your own. And the consortium has been an opportunity for me to learn from a different set of people with different knowledge than I'm typically exposed to as an economist in the business school.
It allows us to work with people to make new kinds of connections – and, hopefully over the course of the grant, develop entirely new, exciting ideas.

Professor in the department of history and the Women and Gender Studies Institute in the Faculty of Arts & Science; co-director of the Indigenous-led Environmental Data Justice Lab at the Technoscience Research Unit; Canada Research Chair in Science and Technology Studies and Environmental Data Justice
No one person has all the skills to address the sustainability of new substances – we truly need much greater collaboration and a willingness to really think across difference. Insisting on Indigenous collaboration in defining sustainable substances is what marks the innovation of this work.
This is a moment of the emergence of a new branch of chemistry – and, at the same time, its industrial application has been implicated in major environmental problems we're facing. Part of what is appealing about this project is that it's putting questions of sustainability and environmental justice as one of its crucial dimensions – and the decision to invest in Indigenous science and technology studies as part of science at U of T is vital.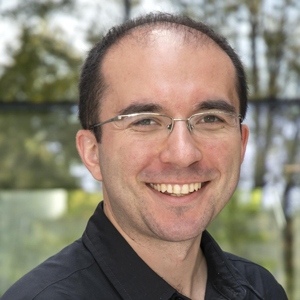 Assistant professor in the department of mathematical and computational sciences, U of T Mississauga; UTM Robotics faculty adviser; director of the Robot Vision and Learning Lab; and Vector Institute faculty affiliate
What is unique about the AC is that over the last five years it has built a tightly knit and vibrant community that includes academic and industry researchers, as well as a global team of active and supportive partners in government, industry and entrepreneurial circles. Despite the seemingly disparate areas of expertise, they all work towards a common goal: to accelerate the science of advanced materials discovery in order to benefit society and our planet at large.
Together with my collaborators, Professors Alán Aspuru-Guzik and Animesh Garg, we are working on enabling general-purpose robots to perform as well as chemists in a typical chemistry lab. Having additional funding from the CFREF will help us to pursue more research efforts in enabling robots to visually perceive and autonomously manipulate granular materials, powders, liquids and transparent objects, which traditionally have been extremely challenging. It opens up so many opportunities for robots to be helpful in chemistry labs and work alongside human chemists to augment their capabilities.

Bioengineering post-doctoral researcher in the Kumacheva Group
The CFREF grant is a game-changer for researchers like me at the Acceleration Consortium.
It's not just about the funding, but also about the opportunities it creates. Collaborating with the consortium has been incredibly valuable for my research project – working to create a microchip that can simulate the growth of cancer cells and test different drug combinations to see which are the most effective, using artificial intelligence.
I'm fortunate to be collaborating with Alán Aspuru-Guzik and the Acceleration Consortium to accelerate the translation of promising multidrug anticancer therapies from the laboratory to clinics. It has been an excellent opportunity to learn from and work with a team of experts who share a common goal.

Laura Matz
Chief science and technology officer, Merck KGaA, Darmstadt, Germany
Breakthroughs in AI-driven experimentation will revolutionize the process of discovering new molecules and materials for health care, life sciences and electronics. We see the Acceleration Consortium as uniquely positioned to bring the ecosystem together to drive cutting-edge advancement in the field of accelerated materials and drug discovery through self-driving labs.
Because of this, we have become a founding member of the Acceleration Consortium. Through this collaboration, we look forward to developing and defining best practices in the area of AI algorithms and automation for materials and molecule discovery. 
---
With files from Erin Warner